Chuck Sackermann Hosts Technical Panel For 2017 Seatrade Global Cruise Conference
Chuck Sackermann, the President and Owner of CSC Management & Digital Video Systems was invited to moderate a technical panel for the 2017 Seatrade Global Cruise Conference.
[Fort Lauderdale] dated March 17th, 2017:  Based on Chuck Sackermann's years of experience in the communications industry, he was invited to moderate a highly technical panel for the 2017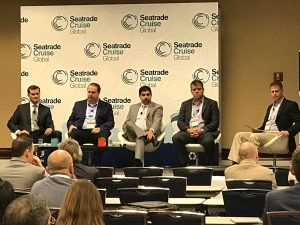 Seatrade Global Cruise Conference.  The topic of the panel was "Cruise Connectivity: Planning Today for the Ships of Tomorrow."   The agenda focused on the continuous and rapid development of technology and communications in the cruise industry.  There was a robust list of panelist to contribute to the discussion which included Tennyson LaJeunesse, CEO of RedCell Technologies, Gregory Martin – O3B – VP, Mobility Market Segment Management, Rez Rasoulian – Carnival Cruise Line – VP, Global Guest Connectivity and Joe Spytek – ITC Global – CEO
The discussion focused on the lagging technology currently available in the cruise industry for connectivity.  Panelist described the task to improve "transformational" and "monumental".   Chuck Sackermann, Digital Video Systems'stated, "While cruise lines and service providers have tried to meet consumer's needs, the target is ever changing.  We are proud of what we do and the kind of growth we have managed to achieve, but there is much more to be done.  Technology never stops and we too are looking to make continuous inroads for further progress."  The kind of new opportunities and growth which the cruise industry offers is enormous and encouraging.  Cost has been an impediment to the cruise industry as the bandwidth needed to drive superior service levels came with a large price tag.  "We are optimistic that in near future, cruise ship guests will be able to appreciate the same level of communication services as enjoyed at home," says Chuck.
It is important to make the most of the technology so that people can benefit at large. The big question during this discussion was how to deliver an outstanding product and serve the growing needs of the cruise ship guests when they are at sea.
For more detail on the discussion, go to:  https://www.digitalvideosystems.net/news/cruise-connectivity/.
About CSC/DVS
CSC/DVS is a 40-year-old infrastructure communications company that specializes in maritime VSAT and audiovisual integration services as well. They have managed more than 250 vessels at the sea and have tremendous experience and expertise in their field.
https://www.digitalvideosystems.net/wp-content/uploads/2019/04/dvs-300-125-300x125.png
0
0
DigitalVideoSystems
https://www.digitalvideosystems.net/wp-content/uploads/2019/04/dvs-300-125-300x125.png
DigitalVideoSystems
2017-03-17 08:04:28
2017-05-02 21:09:39
Chuck Sackermann Hosts Technical Panel For 2017 Seatrade Global Cruise Conference